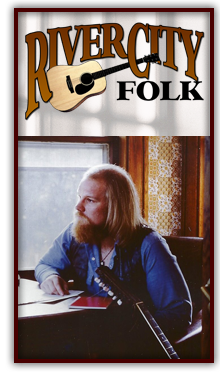 Tune in to River City Folk each week, streaming online on KIOS FM Omaha - www.kios.org Sundays at Noon PST

River City Folk can be heard weekly on a number of radio stations around the country. Click here for a complete Station Guide

Date: April 3
Show Number: 17-13

Artist: Bob Zentz
About: This fine singer/songwriter, performer of traditional songs, and all-around folk music raconteur is simply delightful.

Date: April 10
Show Number: 17-14

Artist: Brian Cutean
About: From Eugene, Oregon, this quirky singer songwriter has a new CD full of unexpected twists and turns.

Date: April 17
Show Number: 17-15

Artist: Anne Hills and Michael Smith
About: Two of the most respected folk musicians join forces on this very special "River City Folk" program.

Date: April 24
Show Number: 17-16

Artist: Pretty Gritty - Blaine and Sarah
About: Their sound has echoes of Johnny Cash and June Carter, and other landmark country duos. These young folks are abundantly talented and fun to listen to.

Date: May 1
Show Number: 17-17

Artist: Brad Colerick and Tom Corbett
About: Lincoln and Texas meet here with some thrilling guitar work and evocative lyricism.

Date: May 8
Show Number: 17-18

Artist: David Mallett (2014)
About: Maine singer songwriter David Mallett is simply one of the best, known all over the world for his "Garden Song" ( "inch by inch, row by row")

Date: May 15
Show Number: 17-18

Artist: Jack Kennedy (Live at Artichoke, March 2017)
About: Kennedy currently lives in Chicago and is releasing a new CD of some of his Northwestern- crafted portraits of people and place.

Date: May 22
Show Number: 17-19

Artist: Donna Lynn and Terry Davis
About: With a dash of the mystical and reverence for the healing power of music, Donna Lynn and Terry bring their homespun, yet elegant words of grace to a wide audience in the Portland, Oregon area.

Date: May 29
Show Number: 17-20

Artist: Tom May (Live at Artichoke, April 2017)
About: The host of "River City Folk" performs some of his newest compositions, interviewed by Artichoke Music's Richard Colombo.

Date: June 5
Show Number: 17-21

Artist: The Fare-Thee-Wells
About: Featuring the music of folk revivial icon Bob Gibson, Meridian Green and friends capture the vitality and still-immediate themes of Gibson's timeless tunes.

Date: June 12
Show Number: 17-22

Artist: Hanz Araki and friends (Live at Artichoke, 2014)
About: Lauren is a prolific folk blues performer, playing all over the U.S. at festivals and concerts. Her newest project profiles the story of Gibson guitars and the women who play them.

Date: June 19
Show Number: 17-23

Artist: Lee Murdock (2)
About: "The Balladeer of the Great Lakes", Lee brings his feel and knowledge of the history of the men and ships who plied the enormous inland seas of Michigan, Erie, Superior, Huron, Erie, and Ontario.

Date: June 26
Show Number: 17-24

Artist: Lincoln Crockett and Chris Kokesh
About: With a rare and pleasing blend of guitar, mandolin, fiddle, and finely tuned vocal arrangements, this is one of our favorite "River City Folk"episodes of recent years.
About | History | On-Air Schedule | Stations | Live Tapings | RCF on TV | Podcasts | Press