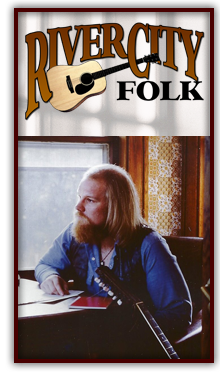 Tune in to River City Folk each week, streaming online on KIOS FM Omaha - www.kios.org Sundays at Noon PST

River City Folk can be heard weekly on a number of radio stations around the country. Click here for a complete Station Guide

Date: January 1
Show Number: 18-1

Artist: Bryan Bowers
About: The acknowledged master of the Autoharp, who forever changed the approach to this ancient instrument- is also a gifted storyteller, performer, and songwriter.

Date: January 8
Show Number: 18-2

Artist: Ben Bedford
About: From Illinois, Ben Bedford captures the scope of history-both personal and national- in his finely painted songs.

Date: January 15
Show Number: 18-3

Artist: Jim Faddis (new)
About: Jim's songs are undeniably country influenced, finely wrought portraits of ordinary folks and their loves and frustrations.

Date: January 22
Show Number: 18-4

Artist: Best of Winterfolk 03
About: This year celebrates 30 years of this benefit for Sisters of the Road Cafe in Portland, Oregon. This is a program that profiled the event at the Aladdin Theatre 15 years ago, with Utah Phillips, Tracy Grammar, and others performing.

Date: January 29
Show Number: 18-5

Artist: Danny Dolinger
About: With a travelers heart and exuberance, Danny Dolinger sings of the characters and his life "leaving behind a gentle footprint."

Date: February 5
Show Number: 18-6

Artist: Jamie Stillway (new)
About: Fingerstyle guitar by one of the up-and-comers in the circle of young folks currently touring the U.S. with their music. From festivals to folk clubs, Jamie is doing it all.

Date: February 12
Show Number: 18-7

Artist: Donna Lynn and Terry Davis
About: With a touch of the mystical, and Donna Lynns expressive contralto voice- this program is a delight to hear.

Date: February 19
Show Number: 18-8

Artist: Jill Trenholm
About: With a varied career in the arts, Jill brings a visual dimension to her eloquent songs of life and love.

Date: February 26
Show Number: 18-9

Artist: Annalisa Tornfelt (new)
About: Annalisa has made her name as the lead voice of the popular group "Black Prairie"- but here she sings with her sisters in a blended, evocative family sound.

Date: March 5
Show Number: 18-10

Artist: Kat Eggleston and Kate MacLeod
About: One of our favorite archive RCF programs, Vashon Island, WA meets Salt Lake City, Utah here-in a powerful blend of voices, guitar, and fiddle.

Date: March 12
Show Number: 18-11

Artist: Nancy Conescu
About: Irish traditional ballads and originals for St. Patrick's Day from this expressive celtic songstress.

Date: March 19
Show Number: 18-12

Artist: Woodlander (new)
About: This trio of talented musicians has been making albums and playing throughout the U.S. since the 70's.

Date: March 26
Show Number: 18-13

Artist: Tom Begich
About: From the land of the midnight sun in Alaska, Tom Begich regales us with his observations on his native land and other far afield locales.
About | History | On-Air Schedule | Stations | Live Tapings | RCF on TV | Podcasts | Press