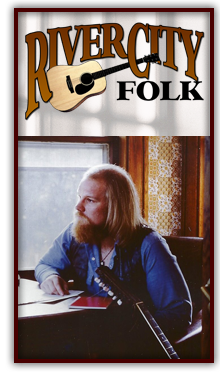 Tune in to River City Folk each week, streaming online on KIOS FM Omaha - www.kios.org Sundays at Noon PST

River City Folk can be heard weekly on a number of radio stations around the country. Click here for a complete Station Guide

Date: July 3
Show Number: 17-27

Artist: William Pint and Felicia Dale
About: Traditional music from the sea, along with some original songs- flavored by hurdy-gurdy, banjo, and strong vocals. Live from Artichoke Music.

Date: July 10
17-28

Artist: The Refugees
About: Legendary songwriter and producer Wendy Waldman is joined by Deborah Holland and Cindy Bullens to create a memorable, folk influenced pop blend.

Date: July 17
Show Number: 17-29

Artist: Hank and Claire
About: Hailing from Poulsbo, Washington, Hank and Claire sing some of the best songs by contemporary writers such as Bill Staines, Neal and Leandra, etc- and also present a program on folk icon Pete Seegar.

Date: July 24
Show Number: 17-30

Artist: Tiller's Folly (4)
About: Featuring the songs of Bruce Coughlin, this powerful trio spotlights a new set of music moving up the charts in Nashville.

Date: July 31
Show Number: 17-31

Artist: Richard Gilewitz (2)
About: Instrumental 12 and 6 string guitar, played with passion and exquisite taste and touch. Richard also has some interesting stories from the road life of a touring guitarist.

Date: August 7
Show Number: 17-32

Artist: Jon Lee
About: With a new 2 CD set, Jon recounts his stories of the storied landscapes, native peoples, and working folks of the Pacific Northwest.

Date: August 14
Show Number: 17-33

Artist: James Hurley
About: Powerful songwriting from a gifted folk musician who has been touring full time and relentlessly for decades.

Date: August 21
Show Number: 17-34

Artist: Kate and Bill Isles
About: This husband and wife duo tours primarily in the midwestern U.S. with their songs of family and place.

Date: August 28
Show Number: 17-35

Artist: Will Hobbs
About: A solo artist and also a member of the Portland band "Woodlander", Will's music focuses on environmental issues and the career of a musician.

Date: September 4
Show Number: 17-36

Artist: Rik Palieri
About: From Vermont, Rik is a mainstay of "Sing Out" magazine, as well as a fine banjoist and songwriter.

Date: September 11
Show Number: 17-37

Artist: Misty River (2)
About: One of the best loved folk/bluegrass groups to ever emerge from the Pacific Northwest, Misty River was a marvel of vocal harmonies and traditional folk stylings.

Date: September 18
Show Number: 17-38

Artist: Anna Tivel
About: Winner of the 2015 Kerrville Folk Festival "New Folk" songwriting competition, Anna is a fine fiddle accompanist as well as being a riveting storyteller and songwriter.

Date: September 25
Show Number: 17-39

Artist: Kevin Burke
About: Legendary fiddle player and storyteller, member of the 70's Bothy Band, and a true giant of Irish traditional music. Recorded live at Artichoke in Portland, Oregon .
About | History | On-Air Schedule | Stations | Live Tapings | RCF on TV | Podcasts | Press