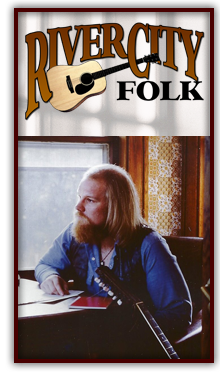 On July 5th, 1985, a radio program premiered in Omaha, Nebraska that was to become one of the longest running syndicated music programs in history.

The idea for River City Folk came from Tom May's imagination as he toured doing concerts on the east coast of the U.S. in the spring of 1985. It occurred to him that though it seemed as if there were radio programs springing up all over the country playing the music from his albums and featuring folk artists, there was no coverage of this genre on the airwaves in Omaha.

Tom approached KVNO program director Peter Marsh with the idea of a show that would feature the burgeoning number of recordings being released by folk music artists from all over the U.S. Peter Marsh decided it was an ideal fit for KVNO, and the program began in the 2PM time slot on Sunday afternoons that July.

It was always a pre-recorded show, to fit Tom May's increasingly busy touring schedule around the U.S. and beyond. Tom would come home to Omaha and record as many as 5 or 6 episodes in a day for future broadcast.

After developing a loyal following for River City Folk for 5 years, in 1990 Tom approached the newly named program director, Steve Robinson, of the fledgling Nebraska Public Radio network about carrying his program across the state. Steve thought it would be a good contrast to some of NPRN's other offerings, and River City Folk began to be heard statewide in Nebraska in the springtime of that year.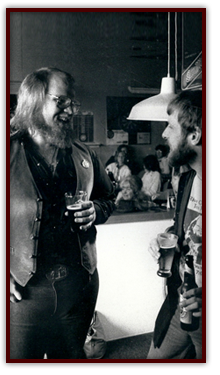 The show was still produced by Tom at KVNO at the University of Nebraska at Omaha, and late in 1990 station manager Howard Lowe had an idea to use a portion of the Corporation for Public broadcasting's program development monies, issued in grants to the station each year, to develop River City Folk into a national program.

At that time, River City Folk adopted the format it still uses; a blend of live performance, recorded musical influences, and interview. Tom May also frequently joins his guest for a song toward the end of the program.

First syndicated in the spring of 1991, River City Folk almost immediately became a very popular public radio offering across the United States, distributed initially on the National Public Radio satellite system and later on the WFMT Radio Network. Carriage has varied from 40 to as many as 200 public radio stations throughout the years. Many stations have carried River City Folk for almost 20 years now, including WDCB in Chicago and WSKG in Binghamton, New York ( with translators throughout upper New York State)

In 1994, the success of the radio program prompted KVNO's manager Howard Lowe to sign onto a co-operative effort to produce 32 episodes of River City Folk for television, to be seen nationwide on the Americana cable network originating out of Branson, Missouri, and on the University of Nebraska's television station in Omaha. Proving to be a very popular and a perpetual "viewers favorite," reruns of the series are still shown in Omaha on public television.

In 1999 KVNO made a change in format, and River City Folk for a one year period became a production of Nebraska Public radio in Lincoln (though the episodes were still produced by Tom in Omaha at Clete Baker's studio B, and at various locations in the Pacific Northwest, where Tom May now lives.)

As Chicago's WFMT took over distribution of the program in 2000, the program became self-produced by Tom May and Clete Baker, and remains so today. With technology changes, distribution is now handled with stations that carry the program through an FTP site and other delivery methods.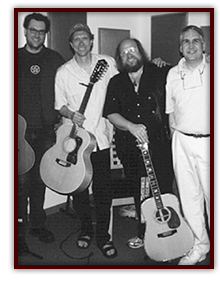 In Omaha, River City Folk is still heard on the radio on Sunday afternoons at 2PM, as it has been for more than 25 years, currently on public radio station KIOS, 91.5FM.

Tom gives credit for the long time success of the show to the musicians, who often travel great distances to perform live on the program; his partner , Clete Baker, who edits and masters each program to be as sonically good as it can be before it reaches the airwaves; his recording underwriters in Portland, Dan Rhiger at Medicine Whistle studios, Billy Oskay at Big Red Studio, and Fuzzy Purcell; and all of his supporters at KVNO, NPRN, and WFMT throughout the years.

For the 25th anniversary, Tom recorded a series of programs with legendary folk music songwriter/ arranger Peter Yarrow of Peter, Paul and Mary. Peter joins a multitude of musicians who have performed on "River City Folk", including Iris Dement, Anne Hills, Michael Johnson, Bill Staines, David Mallett, and hundreds more.

Very few broadcast programs of any kind make it past the 25 year mark. The endurance of River City Folk is a testament to the grassroots nature of folk music, and the dedication of Tom May, Clete Baker, Dan Rhiger from Medicine Whistle studios in Portland, Oregon, Billy Oskay at Big Red, and many others to this "music that makes a difference".

In 2013, with the support of a generous patron, "River City Folk" began recording one program per month live in front of an audience at Portland, Oregon's Café Artichoke. That series has a been a great success, and continues on.
About | History | On-Air Schedule | Stations | Live Tapings | RCF on TV | Podcasts | Press