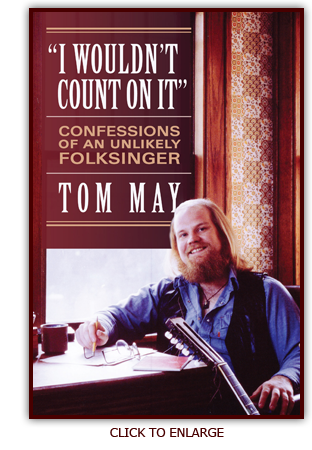 Tom May has been a folksinger/guitarist/songwriter and performer for nearly fifty years. He has recorded 14 albums of original material, as well as produced additional CDs for various projects and other artists. His touring has taken him to every state in the U.S., most Canadian provinces, and to Europe. Along the way he has opened shows for Gordon Lightfoot, Willie Nelson, Alabama, and many others-as well as headlining concerts with symphony orchestras and being featured at music festivals across North America. He has produced the nationally syndicated "River City Folk" radio program since 1985, and founded and directs Portland, Oregon's "Winterfolk", now in its 32nd year of raising funds for Pacific Northwest residents in need of food and shelter.

Tom's journey has truly been a "Life in Song", a joyous romp in a challenging, competitive corner of the arts. Full of amusing stories, interesting geography, bungled romances and excellent wine- this is a book to be savored by anyone who enjoys a story of "making it" in the music business (which means vastly different things to different folks) and having fun along the way. His dedication to this "music that makes a difference" has never faltered, and shines through in this peripatetic tale.

BONUS AUDIO CD
Limited Edition - Only available with purchase from the Tom May Online Store or at one of Tom's live shows!

1. Blue Roads, Red Wine
(alternate mix, 2008- from "Blue Roads, Red Wine sessions, 2007)
I love Nolan Murray's fiddle on this version.

2. If It's All the Same to You
(from "Open Spaces, Prairie Winds", 1987; produced and string arrangement by Clete Baker)VP002
One of my favorite cuts ever, with Clete's expressive string quarter chiming in.

3. Celilo Falls
( alternate mix, from "Blue Roads, Red Wine" session, Big Red studio, Corbett OR, 2007, Billy Oskay, engineer/co-producer)
Hanz Araki's flute, Nolan's fiddle, the drum, a very immediate version. Dedicated to Fuzzy Purcell- rest in peace, dear companion.

4. River and the Road
title cut of 1994 album on "Folk Era" (Folk Era 1420) records, Chicago, Illinois
Another exquisite arrangement by Clete Baker.

5. Blind as Babies
(from 1982 album, "Coming Home"- with Peter Mathieson) VP002
Just two guitars, two voices, and a bass Thank you for everything, Peter

6. Trial By Fire
( from "Vested" album, 2001) Blue Vignette 010
Orville Johnson and Fuzzy Purcell added the sizzle to this firefighter ballad, Inspired by the Storm King Mountain fire in Colorado in 1994.

7. Ballad of the Horse Brass Pub
(from "Blue Northern" album 1990) VP004
It still stands, I still do two shows a year there, best pub in the U.S.

8. Open Spaces, Prairie Winds
(w/ Omaha Symphony) unreleased- live performance 1994, Orpheum Theatre, Omaha NE
My Nebraska ballad framed by a full symphony arrangement.

9. September 1862
(From " A Road Worth Driving Down, 2018") Blue Vignette 014
Always wanted to write a Civil War song- proud of this one.

10. Two
(From "Vested", 2001) Blue Vignette 010
Billy Oskay got the best vocal sound on this track of any I have ever had. Of course, I was younger then, too.

11. Bessie and Me
(with Chris Kennedy)from "River City Folk Duets" VP013
My favorite version of this western tale of a unique person and place.

12. The Words Upon the Wire*
(From "Blue Roads, Red Wine", 2008) Waterbug WBG80
For my dad, and the Creighton brothers, and the telegraph era.

13. Rose of the Riverwalk
(From "Vested" 2001 ) Blue Vignette 010
Written in the sauna at the YMCA in Omaha- inspired by a Kerrville folk festival trip.

14. Vignette
(From "Blue Northern" 1990) VP004 (also title cut of first Tom May album, released 1979)
Shades of Toronto in the 1970's- one of my first good songs.

15. All For the Best
( From "Blue Northern" 1990) VP004
Up and down the road in the 1980's-what a time!

16. Away from it All
(with Chris Kennedy) "Before the Time Slips Away", 2013 Blue Vignette 012
Chris's fine song of small town life and love.

17. Yukon Journey
(alternate mix from "Blue Roads, Red Wine" sessions, 2007)
It's all true- Canada/US tour 1997.

18. Wherever I Go
(from " A Road Worth Driving Down", 2018, Dan Rhiger, co-producer, at Medicine Whistle Studio, Portland, Oregon ) Blue Vignette, 2018
An apology for romantic shortcomings.

19. Thanks
(from "River and the Road", Omaha, NE 1994)
I wrote this in 1980- originally on "Coming Home" album, the gratitude is real and abundant.

20. A Road Worth Driving Down
(from the album by the same title, Portland, Oregon 2018)
It certainly has been.
all songs Copyright Tom May, Blue Vignette Publishing, ASCAP, except...
3. Celilo Falls, Tom May And Fuzzy Purcell, Blue Vignette Publishing ASCAP, 2008
5. Blind as Babies, Peter Mathieson, Willowdown Music, BMI
16. Away from it All, Chris Kennedy, 219 South Elizabeth, Whitehall Michigan