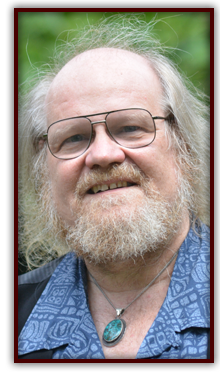 Thanks for visiting the official Tom May website. Tom has been an important part of the North American folk music scene for four decades, and continues to perform and organize events, including Winterfolk, the annual benefit concert for Sisters of the Road in Portland. Tom is also the founder and host of the nationally-syndicated live radio program, River City Folk.





Writing and playing his own music, and eloquently interpreting the songs of others; sharing through his music history, romance, and his travels with audiences throughout the U.S., Canada and overseas in concert halls and clubs; hosting and performing weekly on the national radio/TV program River City Folk; that is just a glimpse at some of the highlights of Tom May's more than 40 years as a professional folksinger.

Originally from the plains of Nebraska, Tom has called Toronto, Boston, St. Louis, Omaha, and since 1996, the Pacific Northwest, home. On twelve and six string guitars, he accompanies his baritone voice with intricate stylings not often heard in folk music. Stories, humor, and occasionally even the Irish pennywhistle introduce the songs featured in his concerts.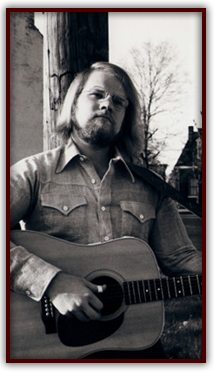 Tom May has performed in every region of the U.S., as well as Canada, England, Ireland, Scotland, Germany and Belgium. His performing venues have included prestigious concert halls, small town auditoriums, and humble coffeehouses--all of which have given him an uncommon rapport with audiences both large and small. His festival appearances include The Kerrville Folk Festival; the Napa Valley Music Festival; Sisters Folk Festival; (Oregon) The Juan De Fuca Festival (Port Angeles, Washington); and dozens more.

Tom's music was chosen to represent Nebraska at the National Arts Council's annual conference in 1994 and 1995 in South Carolina and Omaha. In September of 1994, Tom headlined a special series of concerts with the Omaha Symphony Orchestra, one of the most acclaimed regional orchestras in the U.S. He performed a set of his music with full orchestral accompaniment to capacity crowds. In 1997 and 1998, Tom did a series of concerts throughout Alaska in honor of the Klondike Gold Rush centennial. Other highlights include performing appearances at the 2002 Salt Lake City Winter Olympics, and special concerts and events across the continent.

Tom has toured with and opened for many well known artists, such as Gordon Lightfoot, Alabama, Willie Nelson, and many others. He currently performs and tours solo or with his acoustic trio, consisting primarily of Donny Wright on bass and Fuzzy Purcell on lead guitar. He has also released fourteen critically-acclaimed, widely-distributed albums. His most recent CD is the 2013 release, Before the Time Slips Away, with his longtime pal Chris Kennedy from Wyoming.

In addition to his live concert appearances, he has appeared on dozens of radio and television programs, including National Public Radio's syndicated Mountain Stage, Radio Eirhenn's (Ireland) Andy O'Mahoney show, and the Canadian Broadcast Corporation's Ian Tyson Show (Television) to name just a few.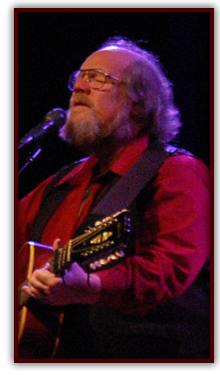 Tom also produces and hosts his own national radio/TV broadcast, River City Folk. The show is heard weekly on over 100 radio stations from Alaska to New York. River City Folk highlights the vitality of the acoustic music scene by featuring diverse performers and styles. The radio version of River City Folk remains one of the premier showcases for acoustic singer/songwriters nationally as it nears its 30th anniversary in 2015.

In 1994, the popularity of the radio program led to a television version of the program that Tom hosted. The show was produced for the Americana Cable Network out of Branson, Missouri. The show aired on commercial and cable outlets across the U.S., and can still be seen on select public television stations. And several full episodes are available on this website, as well as on Tom's YouTube page. Click here to view them.

In 2007, Tom was the primary author of a book (along with Dick Weissman) commissioned by international publisher Routledge, based in New York. Promoting Your Music; The Lovin of the Game features interviews with Gordon Lightfoot , Eliza Gilkyson, and others, as well as May's own insights on this artistic profession.

He also coordinates and founded Winterfolk, a benefit for Sisters of the Road Café - an annual SRO benefit concert at Portland, Oregon's Aladdin Theatre, which has become Portland, Oregon's largest annual acoustic music celebration. Through the years Tom has directed and consulted for many other festivals as well, including the Festival at the Fort in Omaha, Nebraska; The Lark at the Mountain festival at Mt. Rainier, Washington; and the North Coast Festival in Ocean Shores, Washington.

Over 40 years as a professional musician has led Tom May to describe the "true wealth of the music business--the friends that you made and the folks you are lucky enough to have a chance to play for." He has lived a life performing, writing, and promoting this music that he truly believes is "music that makes a difference."

The people who hear Tom are captivated by his unforgettable voice, evocative melodies, the history and romance in his songs,and a warmth that gives his performance a degree of musicality and professionalism unsurpassed in acoustic music.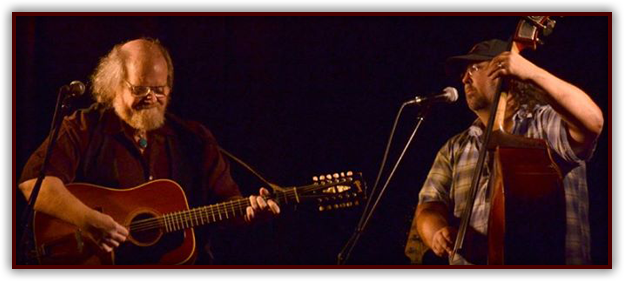 Tom with long-time friend and bassist, Donny Wright
About Tom May | Upcoming Events | Booking Info | Press Resources | Photo Album | Tom's Blog