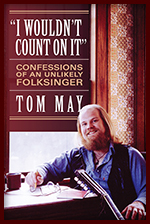 SHIPS MARCH 15!
"I Wouldn't Count On It"
Confessions of an Unlikely Folksinger

By Tom May

$29.95 (Hardcover) +$4 Shipping
$19.95 (Paperback) +$3 Shipping

Tom May's memoir of almost 50 years as a professional touring singer/songwriter. Full of amusing stories, interesting geography, bungled romances and excellent wine- this is a book to be savored by anyone who enjoys a story of "making it" in the music business.
Includes a BONUS AUDIO CD with 20 of Tom's recordings, some rare and unreleased. ONLY AVAILABLE HERE!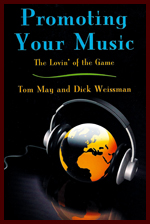 More Info
Promoting Your Music
The Lovin' of the Game

By Tom May and Dick Weissman

$28.00 (Softcover Book) Free Shipping

This is the definitive book for a songwriter wanting to make it in the music business. Unlike other books on the market, it contains important information on every aspect of the business, as well as interesting anecdotes from Tom and the people he interviewed.