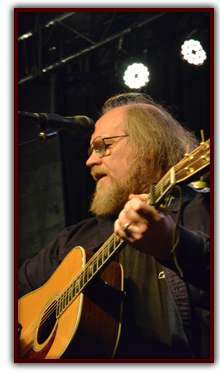 Winterfolk is one of those rare expressions of giving which brings disparate parts of a region together, in the common cause of music and a sure knowledge that every dollar raised at the door goes to the people it is intended to help. All of the artists, national or locally based, completely donate their services; one of the truly unique elements of this yearly event that benefits Sisters of the Road Café. Sisters of the Road Café quietly continues to do its work of providing low cost and no cost meals in Portland, Oregon's Old Town area. Founded nearly 40 years ago, it remains a shining example of reaching out and helping to change people's lives, one hot meal at a time.

In 2019, Winterfolk's beneficiary became another incredible organization who serves the homeless community transition from the streets to permanent housing named JOIN.

Tom May is the founder and artistic director of Winterfolk. Winterfolk began as a birthday party for one of Tom's fans in 1988, who flew him out from his home at that time - Omaha Nebraska, to perform for her at Portland's Horse Brass Pub, owned by Tom's pal Don Younger. A collection was taken up for the homeless, and Winterfolk was born. The next few years saw the event expand to an all-day Sunday celebration at the Horse Brass, who has remained as an event sponsor ever since the beginning.

Winterfolk has had wonderful sponsors over the years. In addition to the Horse Brass Pub, Music Millennium has been involved with the concert almost since its start. In recent years Sysco, Redhare, and other angels have made cash and in-kind contributions to keep the spirit of Winterfolk alive.

Click here to see our Winterfolk sponsors.

Sisters of the Road Café became partnered with the event in 1990. In 1994 the annual concert moved its home to Portland's Aladdin Theatre, where it was held for a number of years until 2016, when it moved to the Alberta Rose Theatre, where it is presently held. In 2018, JOIN became the primary beneficiary of this annual celebration. Winterfolk has become Portland's largest annual folk music event.

About JOIN

JOIN exists to support the efforts of homeless individuals and families to transition out of homelessness into permanent housing. Our efforts are directed at individuals sleeping outside or in their car in the Portland Metro area. Our service provision is not dependent on age, gender, race, ethnicity, faith, culture, language, sexual identity, specific diagnosis, or identifiable issue. Visit their website at joinpdx.org

2022 Winterfolk 33!

The next Winterfolk will be our 33nd year, and will be held at the venerable Alberta Rose Theatre in Portland, Oregon on February 5, 2022. Headlining the show will be the fabulous Kate Power & Steve Einhorn, who will be joined by Mary Flower, Kristen Grainger and True North, Michael Henchman, Ben and Heidi Sadler, and Tom May with Donny Wright & Matt Snook.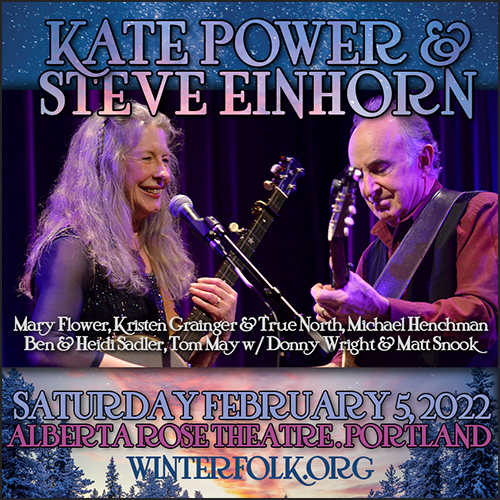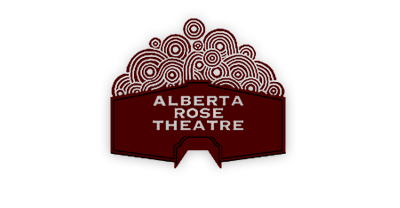 Winterfolk Live CDs

So far, there have been 4 Winterfolk Live Recording CDs. Winterfolk X, recorded live at the Aladdin Theater in Portland, was recorded on February 7, 1998, for the 10th Anniversary of this special event. It features some rare and wonderful performances (which you can listen to) from Tom May, Utah Phillips, David Rea and more. Winterfolk XV was recorded live at the Aladdin Theater in Portland, OR on February 1, 2003, and features great performances by Tracy Grammer, Tom May and more. Winterfolk 22 was recorded live at the Aladdin Theater in Portland, OR on February 6, 2010, and features great performances by Peter Yarrow, Tom May, Leela Grace, and more. And the most recent live CD, Winterfolk 27, was recorded live at the Aladdin Theater in Portland, OR on January 31, 2015, and featured Bryan Bowers, Kate Power & Steve Einhorn, and more. Click on the following CD covers, and you can see each album's artwork, read the liner notes, listen to several very rare recordings of the songs, and purchase a copy of Winterfolk XV for your very own!
25th Anniversary

2013 marked the twenty-fifth year of Winterfolk. This very special evening was headlined by the legendary Peter Yarrow (Peter, Paul & Mary.) Tom May was honored for his dedication over the years, with a moving presentation by Sisters of the Road, represented by Erinne Goodell and Brenda Morgan. Click on the following thumbnails to see some pics of the presentation.
(Click here to see many more photos from this wonderful evening.)
Winterfolk on Facebook

For more photos, stories and the latest happenings, be sure to "Like" us on Facebook. www.facebook.com/winterfolk


Utah Phillips
Tom May
Donny Wright
Fuzzy Purcell
Tom Paxton
Dylan May
Anne Hills
David Mallett
Mike Burd
Dave Carter
Tracy Grammer
Jim Henry
Dan Crary
Beppe Gambetta
John Sparrow
Casey Neill and the Casey Neill Band
Mark Ross
David Rea
Rosalie Sorrells
Michael Johnson
Bryan Bowers
Howard Roe and Wooden Music
Jack Gladstone
Avery Grimes
Chris Kennedy
Peter Yarrow
Christopher Yarrow
Kate MacKenzie
Terry Prohaska (The Rite of Spring)
Michael Attwood (The Rite of Spring)
Lynn Attwood (The Rite of Spring)
Don Mitchell
Doug Smith
Judy Koch-Smith
Bill Murlin (The Wanderers)
Carl Allen (The Wanderers)
Steve Gillette
Cindy Mangsun
Anne Weiss
Andrew Calhoun
Claire Bard
Donna Lynn
Terry Davis
Andrew Hart
Peter Yeates
Mike Beglan
Bob Soper
Kevin Burke
Brooks Robertson
John Standefer
Jaspar Lepak
Kate Power
Steve Einhorn
Jim Page
Billy Oskay
Misty River
Hanz Araki
Cary Novotny
Colleen Rainey
Mary Flower
Nancy Conescu
Mark Moebeck
Tiller's Folly
Kate Sullivan
Al Greirson
Dan Rhiger (Sky in the Road)
Rahmana Weist (Sky in the Road)
Dan Wetzel
Kristin Granger
Dick Weissman
Neal and Leandra
Zoe Wood
Kevin McGreevy
Terri Grayum
Carla Sciaky
Paula Joy Welter
Heather Alexander
Janice Carper
Steve Knebel
Kristi Knebel
Duncan Phillips
Brendan Philllips
Gigi Love
Richard Columbo
Dan McIlhenny
Leela Grace
Jill Trenholm
Scott Docherty
Brian Cutean
Dan Weber
Beth Wood
Joe Hickerson
Chris Kokesh
Lincoln Crockett
Lauren Sheehan
Ernie Tong
Alexa Wiley
Nancy Conescu
Eric McEuen
Mindy Dillard
The Winterfolk Story | Press Resources | Photo Albums | Poster Archive