Album Artwork

Click on the following thumbnails to enlarge the artwork.
For over 35 years, through dumb luck, a lot of work, and the auspices of good friends and great pickers, I have "lived the dream" of the coast-to-coast troubador, performing in hundreds of concert halls, festivals, coffeehouses, and clubs. Along the way I created and produced a national radio/TV program River City Folk (heard on public radio and XM satellite radio since 1985 and still going strong); produced festivals such as Winterfolk in Portland, Oregon and "The Festival at the Fort" in Omaha, Nebraska; and writtena book internationally available through Routledge Publishing, New York (Promoting Your Music; The Lovin' of the Game with Dick Weissman)

[UPDATE NOTE: The book is available online from Amazon in hard cover and Kindle Editions - Click here for information]

But most of all, I have tried to be true to singing about the things I most care about in life; love, history, friends, wine, and books. This album, my 12th, is an opportunity to reflect and rejoice on the entire journey to date ...
Cheers, Tom
Thanks also to: Debbie Dutton; Peggy Moje; John Chamberlin; (for incredible wine and hospitality on the last mixing day) Clete Baker; Don Younger and the Horse Brass Pub; Mike Beglen and the Alberta Street Public House; Gerard MacAleese and Kells; Chris Kennedy; Dan Rhiger; Dick Weissman; Connie Wright; Mark Moebeck; Terry Currier; John Foyston; Gordon Lightfoot; Rob Royster; Pacific City, Oregon; Rick and Kristy Fletcher; Andrew Calhoun.

Click here to read some reviews of Blue Roads, Red Wine.
Players

Tom May - 12 and 6-string Guitars, Lead Vocals
Donny Wright - Acoustic and Electric Bass, Harmony Vocals, Rythym Guitar (on "Watchin' the Rivers Flow")
Marty Leonard - Percussion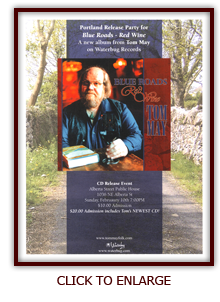 Nolan Murray - Fiddle, Viola, Mandolin
Hanz Araki - Flute, Shakahatchi
Billy Oskay - Violin (on "The Eyes of Rembrandt"), Harmonium
Fuzzy Purcell - Mandolin, Lead Guitar, Octave Mandolin
Dylan May - Bass (on "Watchin' the Rivers Flow")
Kate Power - Harmony Vocals
Bruce Coughlan - Harmony Vocals (on "Watchin' the Rivers Flow")
Marty Leonard - Harmony Vocals (on "Lover's Heart")

Credits

Produced by Tom May and Billy Oskay with Fuzzy Purcell
Recorded, Mixed, and Mastered by Billy Oskay - Big Red Studios, Portland, OR - www.bigredstudio.com
excet for "Lover's Heart"
Recorded and Mixed by Dan Rhiger - Medicine Whisle Studios, Portland, Oregon - www.medicinewhistle.com

Cover and back photography by Jeff Bizzell, at the Horse Brass Pub, Portland, Oregon
Road Photographs taken in County Clare, Ireland by Debbie Dutton
Inside photos by Donnie Wright, Portland, Oregon

©2008 Blue Vignette Productions ASCAP
Discography | Store | Promoting Your Music: The Lovin' of the Game